Your favorite USO building is turning 80 this year and we are going to celebrate with a weekend of fun events!
FREE December 4, 2021  – WWII Living History & Book Signing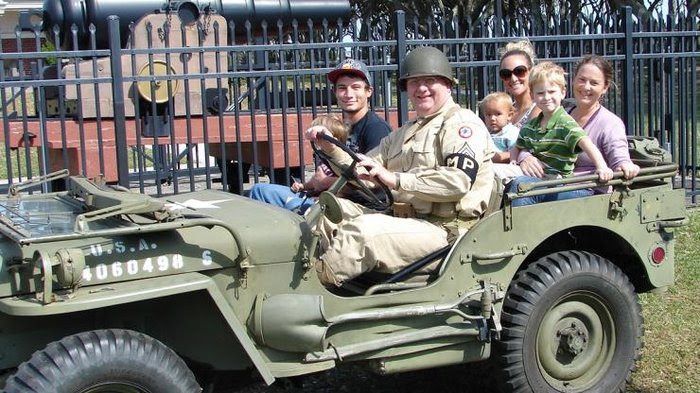 10:00am– 4:00 pm Join John Moseley from Fort Fisher and Cliff Tyndall from Camp Davis and their groups for a living history presentation with re-enactors, uniforms, equipment, artifacts, and a WWII era jeep.

The Day I Lost President Ford: Memoir of a Born-and Bred Carolina Tar Heel, A Sentimental Journey, & The Journey Continues

Wilmington's own retired Navy Captain Wilbur D. Jones, Jr. is a nationally known author of 19 books and 130-plus newspaper articles, military historian, and World War II history preservationist. During a political staff career, he served two U.S. presidents, Nixon, and Ford, two congressmen, and two presidential cabinet secretaries.
FREE December 7, 2021 – Pearl Harbor Commemoration & WWII Heritage City Recognition
1:25pm Power Point history presentation "Wilmington's Connection to Pearl Harbor"

HBHUSO/CAC 80th birthday cake and coffee

Mayor Bill Saffo Wilmington WWII Heritage City recognition
December 10, 2021 – USO Dance – 80th Birthday Party
Celebrate the 80th Anniversary of the Hannah Block Historic USO Building in style!
Dance the night away with the Duke Ladd Orchestra with a special tribute to The Andrews Sisters. All proceeds will benefit the building preservation fund.
Sponsored by American Legion Post 10, the World War II Wilmington Home Front Heritage Coalition, and Thalian Association Community Theatre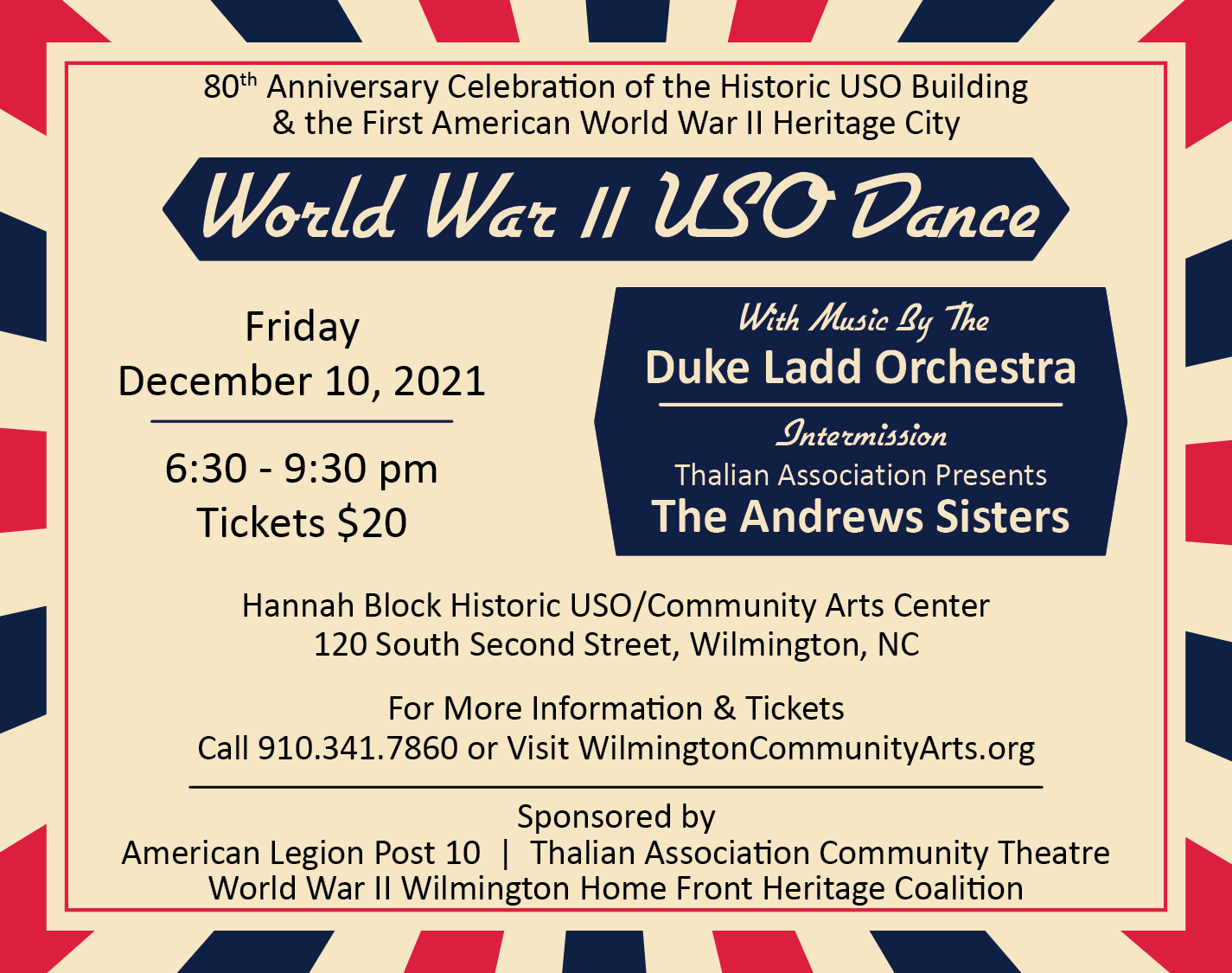 December 12, 2021 – Rosie the Riveter Show at 3:00pm
Rosie the Riveter has been a cultural icon for generations: an inspiring image of a strong, capable woman rising to the challenge of her era and the foundation for the contemporary women's movement. Rosie has become a symbol of feminism and women's economic power.
Explore the Rosie phenomenon with a presentation by Wilbur Jones that covers women in all aspects of service to the nation. Rosie's famous motto, "We Can Do It," meant two things: united, our nation will win the war; and we women will make a difference in the workplace. The Rosie impact started the postwar women's liberation movement.
Followed by a special performance by Elizabeth Michaels as Rosie the Riveter!
There will be an exhibition of Rosie the Riveter memorabilia featuring a vast collection of artifacts, posters, artwork, dolls, bric-a-brac, books, and more in the museum lobby of the Historic USO Building.
Elizabeth Michaels moved to Wilmington from Philadelphia just 5 years ago and has never looked back! She was last seen as Miss Daisy in Driving Miss Daisy at Thalian Hall and in Steel Magnolias and Rumors with Thalian Association.  She has performed in several shows at TheatreNow including Celia Rivenbarks' hit play Southern Fried Bitch. At the Brunswick Little Theatre she performed Love Loss and What I Wore and Jack Benny Isn't 39 Anymore! Before Covid-19 closed everything down she worked with the Port City Playwrights project called 10 Minute Miscellany at the Bucky Stein Theatre and Steel Magnolias at the Temple Theatre in Sanford, NC.
Elizabeth frequently portrays Dolley Madison and Rosie the Riveter with her one woman shows at various venues including the White House Visitors Center, the National Portrait Gallery, the National Archive Building and the National Museum of American History.
As a member of SAG/AFTRA Elizabeth has extensive voice-over experience for training films, industrials, commercials and public service announcements on TV and radio. She is also a narrator for audio books for Audible.com.
Elizabeth lives in Leland with her incredibly supportive and handsome husband Jim and her crazy funny dog Lucky.
Wilbur D. Jones Jr. is a nationally known, award-winning author and military historian. A Wilmington native, he holds a University of North Carolina history degree, is a retired Navy captain and a former assistant and advance representative to President Gerald Ford. He served the Department of Defense for 41 years, the last 12 as a defense acquisition university professor and associate dean.
As a  popular writer and lecturer on World War II as well as other history and defense issues, Jones often leads North Carolina WWII history preservation projects and tours, as well as WWII tours to Europe and the Pacific. He served on the USS North Carolina Battleship Commission from 2013-17 and was appointed by Governor Pat McCrory as chairman of the commission in 2014-15. Since 2000, he has chaired the 501c3 all-volunteer WWII Wilmington Home Front Heritage Coalition, whose mission is to identify, preserve and interpret southeastern N. C.'s WWII legacy.
Jones led a successful project seeking national recognition for Wilmington as the first "American World War II Heritage City," working with the state's congressional delegation. In March 2019, President Trump signed into law a bill establishing that national preservation program. On September 2, 2020, at the Battleship North Carolina, President Trump announced the designation by the Secretary of the Interior of Wilmington as the first World War II Heritage City. Capt. Jones has been recognized with a Wilmington Star News Media Lifetime Achievement Award and 2021 UNCW Distinguished Citizen of the Year.