Free Bilingual Workshop for Children at the Community Arts Center
Loteria con YoCasa!
Have you ever wished your child could learn another language but didn't know how to begin? It will be easy thanks to a new FREE workshop at the Hannah Block Historic USO/Community Arts Center. Let's Play Loteria con YoCasa! will be offered on Saturdays for 3 week sessions. The last week will end with a pizza party!  New Dates will be added, 10:00 am – 11:30 am. Parents can register online using the form below or call 910-341-7860. Spanish speaking parents may also register at 910-777-4325.
Loteria/Bilingual Bingo theme is Family Fun! The score cards have the number, picture, and object description in Spanish. At the beginning, I hand out the score cards and go over all the ground rules, so even new participants get familiar with spanish context. Other components includes arts & crafts, music, storytelling, and the overview of the History development of the game, "Loteria" in Mexico and beyond!
Children will join bilingual storyteller Yolanda House as she shares childhood stories on the arts, culture, and language found in the Mexican folk bingo game called "Loteria". Young participants will play Loteria in a group, linguistically engage while learning Spanish vocabulary, and hear bilingual stories of the origins of the beloved game. The interactive experience will include Mexican treats, music, and art. Loteria con YoCasa! Is a wonderful activity for siblings!
Benefits for children speaking more than one language are well documented and include improved academic results, a better sense of self-worth, identity and belonging, and more diverse opportunities in life. Bilingual and cultural immersion have the power to enrich lives, create greater harmony among people, and help bring a community together.
"The Community Arts Center belongs to everyone in the Port City and thanks to Yolanda House we are able to offer an experience to better connect with our Hispanic/Latino residents," said Susan Habas, Executive Director of Thalian Association. "We want the center to be the place for everyone to come together to share a love of language, visual & performing arts, culture, learning, and play."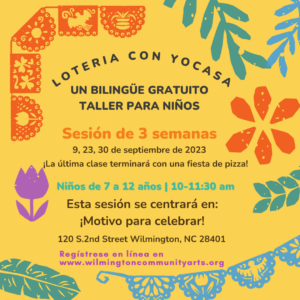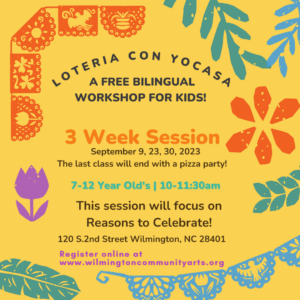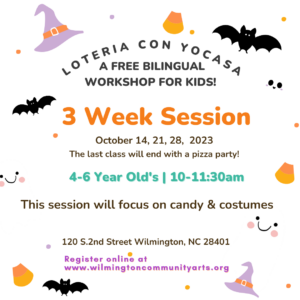 Meet YoCasa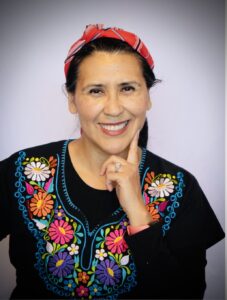 Yolanda House is a Chicana from the Los Angeles area, with a love story spanning 2 Wilmingtons – one in California where she grew up and the other in North Carolina where she lives with her husband and daughter.
*In 2019, Yolanda directed a documentary with support from the non-profit
organization Narrative Arts, to showcase the resilience of a latinx family in their struggle to survive in the aftermath of Hurricane Florence.
*In 2020, Yolanda created a YoCasa Youtube channel – when the global pandemic hit and many were homebound – to showcase her desire to inspire. Yolanda also started teaching Mexican cultural arts to children through bilingual bingo, "Let's Play Loteria con YoCasa" at the Community Arts Center in downtown Wilmington and at other venues.
*In 2021, Yolanda was honored to be selected as a PBS Rootle Ambassador for New Hanover County, serving as a volunteer dedicated to connecting PBS KIDS and early learning resources to the unique needs of our community.
*In 2022, PBS Rootle for North Carolina then invited Yolanda to be a co-presenter for a
Spanish Webinar for teaching parents about kids and emotions.
*In 2023,YoCasa is expanding to include "Bilingual Bee Circle Time" and other
initiatives to connect people to life lessons intertwined with community and culture.
Yolanda is YoCasa – Creative Homemaker, Bilingual Educator and Storyteller,
promoting peace for homes and communities.  YoCasa is passionate about storytelling
to bring dignity to and appreciation for oft forgotten and marginalized people.