Orange Street Pottery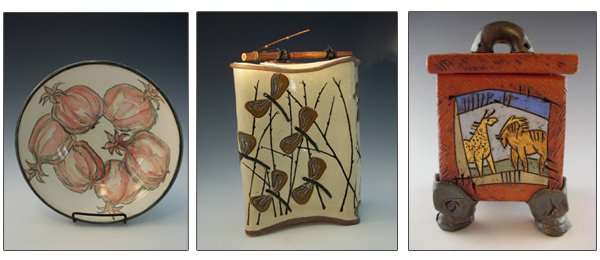 Orange Street Pottery has been a part of the Community Arts Center since 1982.  It is a non-profit teaching studio which offers pottery classes for all skill levels. Orange Street Pottery also sponsors a clay guild (Coastal Carolina Clay Guild) which has 100 members from the coastal regions of North and South Carolina.
The students at Orange Street Pottery and many members of the guild donate time and artwork to the community in various ways. They make the majority of the ceramic bowls for The Empty Bowls Project; donate ceramic art to benefit organizations; volunteer in schools; and mentor high school art students' senior projects.
The major fundraiser is the annual ceramic art sale held at The Community Arts Center the second weekend in November.  Some of the proceeds from the sale are donated to community organizations such as DREAMS and Good Shepherd.
During the 30 years in which Orange Street Pottery has been a fixture in the basement of the Community Arts Center it has continued to touch the lives of many of the ceramic artists in the Wilmington community.  Orange Street Pottery strives to offer affordable pottery classes to the community and to provide encouragement and support for ceramic artists.
CLICK HERE to visit their website for more information.
Orange Street Pottery Classes

www.orangestreetpottery.com

Meet twice a week for 8 weeks – $195


Monday/Wednesday  9:30am-12:30pm

Wheel throwing & Handbuilding

Instructor: Brian Evans

Monday/Wednesday  5:30-8:30pm

Wheel throwing & Handbuilding

Instructor: Brian Evans

Tuesday/Thursday  9:30am-12:30pm

Wheel throwing & Handbuilding

Instructor: Steve Kelly

Tuesday/Thursday  2:00pm-5:30pm

Wheel Throwing

Instructor: Steve Kelly

To register or for more info: