Old Pros Series – Full and Half Day Camps (9 AM – 4 PM)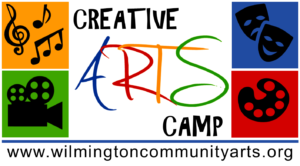 What to Expect:
Join the "Old Pros" in these week long specialized camps taught by local professionals. Each camp will focus on specific topics to help your young actor or artist develop their skills and foster their passion. Each week there will be a theme to guide the activities, crafts, scenes, scripts, songs and games for that week of camp. Full day campers will be able to experience two themes in one day for a double dose of fun. Morning camps have a theater arts focus and afternoon camps work with visual arts. Final Showcase on Fridays for every camp!
Tuition Costs:
Full Day Enrollment—$160/week
Morning or Afternoon only—$85/week
Show and Share Friday:
Each Friday there will be a final showcase for family and friends to attend for all of the morning camps. The "show and share" will be a variety of music numbers, dance routines, rehearsed skits/scenes, art exhibits etc. Morning and Afternoon camps will have their own showcase. PLEASE NOTE: All showcases for 2021 may be virtual depending on COVID-19 Mass Gathering Limits
COVID-19 Update: Click Here For More Info
Register Now for Old Pros Series
Camp Descriptions:
Week 1: June 7 – June 11
Broadway Now – 9am-Noon – This camp will be for the Broadway lover! Sing, dance and act scenes from your favorite current Broadway hits!  This camp will sure to get your young performer ready for the next big show. The Friday's Show and Share will include full ensemble dance numbers from our favorite Broadway Musicals!
Time Travelers: Art Sampler Class – 1-4pm – This week of camp will be jam-packed with arts and crafts. Each day campers will travel to a new decade and practice different visual art forms including drawing, painting, mixed media, sewing, photography, and more!
Register for Old Pros – Week 1
Week 2: June 14 – June 18
Hollywood Bound – 9am-Noon – Creative Arts Camp is rolling out the red carpet for all our aspiring actors. This week of camp will be inspired by all our favorite Movies and Celebrities with skits, scenes, and solo works that will help develop character acting and confidence. Friday's Show and Share is sure to be Oscar worthy!
FILM CAMP: Let's Make A Movie – 1pm-4pm – Let's make a movie! This week campers will learn all the basics of filming a short film. We will storyboard our project and then write, act, and film our own short movie! The short film will be featured on the Community Arts Center Website, the Thalian association Youtube Channel, and then submitted into the Cucalorus Film Festival!
Register for Old Pros – Week 2
Week 3: June 21 – June 25
Fractured Fairytales – 9am-Noon – This camp is for kids with lots of CHARACTER! This week we will learn character development, practice voice and body language, and even talk in accents! Campers will use classic fairytale elements to create their own happily (or maybe unfortunately) ever after.
Orange Street Pottery Camp – 1-4pm – We welcome campers to our 6th Summer of Pottery Camp! Campers will learn the basics of ceramics in this afternoon visual arts camp! All campers will create their very own completed piece of pottery that will be available for pick up 2 weeks after the conclusion of the camp.  Supply fee of $10.
Register for Old Pros – Week 3
Week 4: June 28 – July 2
Magical Muggles– FULL DAY 9am-4pm – Still waiting for your Hogwarts letter? So are we! This unique immersive experience will be for us creative muggles ready to learn some magic! Step into platform 9 ¾ and travel to Hogwarts where we will make wands, play quidditch, craft potions, and get sorted into Houses. Each day campers will attend different Hogwarts classes and end the week with a (field day like) House Cup competition. This full day camp will have both a performance and visual art component that is perfect for all skill levels and Harry Potter knowledge. Let the magic begin!     *Camp Director's Favorite!
Register for Old Pros – Week 4
Week 5: July 12 – July 16
Disney Villian Spotlight – 9am-Noon – This camp is for those that are willing to take the spotlight! Using our favorite Villain material, campers will take center stage in this acting and technique camp. Each camper will work on singing a Villain solo or performing an unforgettable monologue leaving all with the confidence to be the main event!
Walt Disney's World Showcase: Art around the world – 1-4pm – Inspired by Disney Themed Artwork this week of camp will be jam-packed with arts and crafts from around the world. Each day campers will stamp their passport as they travel to new countries to practice different art techniques from different cultures.
Register for Old Pros – Week 5
Week 6: July 19 – July 23
Galaxy Far Far Away – 9am-Noon – A long time ago in a Galaxy Far Far Away there were creative young campers that gathered for a week of fantastical fun! This week of camp will have a choreography focus where campers will learn how to stage combat their mortal enemy, Darth Vader!
Behind the Curtains of BOSS Camp– 1-4pm – Calling all Techies! The art of stagecraft will take over the next week on Second Street. This week we will be working closely with the cast of BOSS CAMP to prepare their costumes, makeup, props, and set for the production of Shrek Jr. Campers will be the official stage crew – running lights, sound, and set changes – for both evening shows!
*All campers are encouraged to be at both evening shows of Rockin' Tale of Snow White. on July 23 & 24 at 7:00pm, campers will need to be backstage by 6:00pm. There will be a cast and crew party on Friday, July 23 from 4-6pm that campers can attend for $10.00.
Register for Old Pros – Week 6
Week 7: July 26 – July 30
Triple Threat 101 – 9am-Noon – What will it take to give your performer a little more of an edge? Musical Theater is all about becoming a Triple Threat! This week we will work on SINGING, DANCING, and ACTING to give your Old Pro a little taste of what Musical Theatre is all about!
ART Basics: Fundamentals of Visual Arts – 1pm-4pm – This week of camp will be jam-packed with arts and crafts. Each day campers will learn a new visual art technique including drawing, painting, mixed media, sewing, photography, clay and more! Learn all the basics in just one week!
Register for Old Pros – Week 7
Week 8: August 2 – August 6
Standing OUT – 9am-Noon –This workshop style camp will give your performer tips on how to stand out in an audition. Learn how to quickly pick up a routine for a dance callback, nail a cold reading, and how to pick the perfect song to sing for your voice. This camp is perfect for those wanting to audition for a Thalian Association Community Theatre Youth show next season.
Comic Book Adventures – 1-4pm –Love to Draw? Love creating characters? This camp is for you! Campers will work on character development, make flip books, draw storyboards, and make their own comic books! Perfect for creative kids who like making stuff! Join for a week of fun and creativity!
Register for Old Pros – Week 8