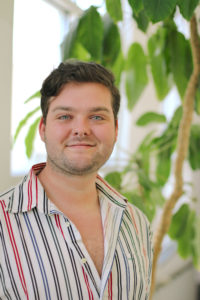 Logan Hayes has joined Thalian Association Community Theatre as Production Manager and Operations Coordinator as of July 2022. The Thalian Association Community Theatre has managed the Hannah Block Historic USO/Community Arts Center for the City of Wilmington since 1994.
Logan Hayes was born in Wilmington, NC where he has lived most of his life. Logan currently attends both Cape Fear Community College and the University of North Carolina at Wilmington majoring in biology and hopes to graduate soon. Logan has danced since the age of four both in Burgaw, NC and Wilmington, NC and is now a skilled choreographer. His love for dance grew as he became more involved within the local arts community.
Since the age of six, Logan has always been very involved in the theatre scene between working behind the scenes, choreographing dance classes/shows and acting in shows. Logan became involved with Thalian Association as an actor in the youth production of West Side Story in 2014 and fell in love with the company instantly. Since then, some of his favorite things to work on has been Elf the Musical (Ensemble – 2019, Ensemble, Dance Captain, Asst. Choreographer 2021), Guys and Dolls (Harry the Horse – 2020), Children of Eden Jr. (Choreographer – 2022) and Junie B. Jones (Asst. Director – 2022). Some of his favorite things to do include choreography, stage management, lighting design, sound design and set construction. He is ecstatic to be apart of such a wonderful company and cannot wait to serve the wonderful community of Wilmington in this capacity.