7th Annual ARTfall Juried Show & Sale!
September 16 – 24, 2022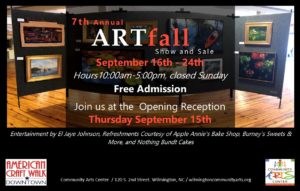 Presented by the Hannah Block Historic USO/Community Arts Center. The seventh annual ARTfall, a juried exhibition and sale featuring the  work of emerging and established artists, will be held September 16-17 and Sept. 19-24 from 10 am to 5 pm.
ARTfall is part of the American Craft Walk on Saturday, September 17th, 2022. Find more info on the craft walk here!
Artfall will open with a dessert reception to honor the artists and announce the award winners on Thursday September 15th  from 6 to 8 pm. The public is invited to attend the reception and enjoy signature refreshments by Apple Annie's Bake Shop, Nothing Bundt Cakes, and Burney's Sweets and More. Local favorite El Jaye Johnson will provide the entertainment with his one man show featuring music from all genres, including jazz, R & B, reggae, and funk. Awards will be presented for 1st, 2nd, and 3rd place, Honorable Mention, and People's Choice with cash prizes totaling $525.00.
2021 Winners:
1st Place: Terry Rosenfelder "Morning Routine"
2nd Place: Ricardo Perez "Eullis Willis"
3rd Place: Dan Campbell "She Can Feel The Ocean Fall and Rise"
HM: Lisa Haskins "Black Lives Matter"
HM: Tina Madonia "The Overlook"
HM: Janet B. Sessoms "Purple Cabbages"
"We're so pleased to offer this gift to the community, it really is one of our favorite events of the year," said Susan Habas, Executive Director of Thalian Association, the managing entity for the building. "I'm always amazed at the breadth and depth of the talent of the visual artists in our region, please come and experience it for yourself."
120 pieces of 2D & 3D art from fifty-eight artists will be exhibited. The artists include: Cassandra Baes, Charleen Baggett, Jim Bettendorf, Marybeth Bradbury, Dan Campbell, Sheila Carsten, Brianna Casini, Leah Chappell, Joy Parks Coats, Mary Craig, Sandra Dahl, Chandler Davis, Cynthia Davis, Lois DeWitt, John Federlin, Donna Ferrandino, Kari Feuer, Susan Fishbein, Linda Geraci, Maureen Glassman, Morgan Goodrum, Madison Griffin, Rebecca Gurganus, Gail Guthrie, Dan Hardison, Lisa Haskins, Theresa Honeycutt, Janette K Hopper, Jacqueline Karch, Neal Keller, Kristin Logan, Tina Madonia, Irina Makovskaya, Kathy C Mann, Claire Martin, Lynn Meeker, Cara Merritt, Mary Naylor, Sandy Nelson, Cathryn Collopy O'Donnell, Sheila Ortiz, Marlene Owens, Ricardo Perez, Cathy Poulos, Paula Quirin, Lorena Redding, Terry Rosenfelder, Janet B. Sessoms, Christine Sesta, Sarah Sheffield, Mary E Smith, Gail D. Smith, Shelby Hanson Tiziani, Erika Tully, Elizabeth Vickerman, Diana Vincent, Phil Wanamaker, Hallie-Claire Weems, and Elena Wright.
ARTfall juror Donald Furst has been on the UNCW faculty since 1985. Furst received the 1999 Board of Governors Award for Excellence in Teaching, a Distinguished Teaching Professorship at the University of North Carolina at Wilmington, and the 1996 UNCW Board of Trustees Teaching Excellence Award. The artist has shown widely in national and international exhibitions, including the International Print Triennial, Krakow, Poland; Norwegian International Print Triennial; Sapporo International Print Biennial in Japan, the Macedonia International Print Triennial, and the British International Miniature Print Exhibition.  Furst exhibited etchings in the invitational 12-artist show "Interiors" at the North Carolina Museum of Art in Raleigh in the fall of 2000. Collections include the Fogg Museum of Art, Harvard University; and the Nelson-Atkins Museum, Kansas City, Missouri.